No other coffee making technique can beat like that of a pour over one. Coffee enthusiasts would definitely distinguish from the distinctive aroma of the freshly-brewed coffee. And the coffee is undoubtedly tastier than the instant one.
To be honest, there is a galore of pour over coffee makers available on the market, but it is an absolute hassle to search for the best maker that complements your taste profile and preferences well.
There is an option to actually go with your instincts or with the one that made the last impression. However, you also know that this purchase could be disappointing because your money's at risk.
Don't worry, as we are here with the list of best pour over coffee makers available on the market. Just sit back and relax while we give you lessons on the best brewers.
We have listed down nine best pour over coffee makers available to save you from the hassle of searching from shop to shop and ask the keeper to guide you on the best.
The Best 9 Pour Over Coffee Makers in Town 2019
Before we get busy in telling you the good and bad of each brewer, let us first take a quick look below. The table highlights some of the main features customers usually look for when buying a coffee maker.
This table will definitely help you save time by précising your options.
| | | |
| --- | --- | --- |
| Model | Type | Filter Paper? |
| Hario V60 Coffee Dripper | Single Serve | Yes |
| Kalita Wave 185 | Single Serve | Yes |
| Bodum 11571-01US | Multi Serve | No |
| Bartelli Paperless | Single Serve | No |
| Osaka Pour Over Brewer | Multi Serve | No |
| Melitta | Single Serve | Yes |
| Tanors Ceramic Coffee Dripper | Single Serve | Yes |
| Chemex Coffee Maker | Multi Serve | Yes |
| Primula Single Serve | Single Serve | No |
Now, let's have a detailed discussion on each of the coffee brewers with its good and bad, ultimately helping you take a final decision.
Hario V60 Ceramic Coffee Dripper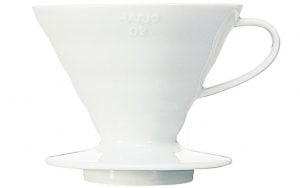 "Allows controlling temperature and brewing time.
Hario is a simple and easy-to-use coffee brewer. It must be placed over your mug or cup, and it will do the rest of the dripping. The best thing about it is that this coffee brewer gives you the opportunity to brew your preferred cup of Joe. It allows you to have control of temperature, water flow, and time it takes to brew your perfect cup of coffee.
It comes in variety: ceramic glass, plastic and metal. Also, it is available in a wide range of colour, so you have complete control to get something that suits your style.
All in all, it is a very handy brewer that too under a price tag of $20.
The Bottom Line:
If you are eager to learn or already know everything from grinds to temperature and water flow, the Hario V60 will be your perfect companion.
Kalita Wave 185 Drippers
"The Kalita's Wave series is the premier coffee maker on the market.
This coffee brewer incorporates both flat-bottom and wave design. The dripper also features a three-hole dripping technique. All three features combine together to provide you with a tasty cup of freshly-brewed coffee.
Unlike the model we discussed above, this brewer doesn't have any complex settings. You are just required to put in some coffee grounds and leave the rest of the process on the dripper.
The Kalita's Wave brewer comes in three different materials: stainless steel, glass and ceramic. Priced at $20, it can't be considered the cheapest brewer. However, it yields a tasty cup of java and is so simple to use that even beginners won't be having any difficulty dealing with it.
The Bottom Line:
With its easy-to-use design and features, both beginners and experts will adjust to its settings easily. Also, this coffee brewer yields a delicious cup of java.
Bodum 11571-01US Pour Over Coffee Maker
"The Pour Over coffee maker by Bodum yields a cup of rich coffee along with a strong aroma, and it also maintains coffee's natural oils.
This pour-over coffee brewer is multi-server. So, if you are living alone and have to make coffee every single time, do get this dripper to save time and energy. This brewer has the capacity to brew 34oz per pot.
The best part is that it is simple so that it can be used by everyone. What you are required to do is just pop in some coffee, pour a little amount of water in a circular motion so that grounds are soaked properly, and finally, add the remaining amount of water in the dripper. Just wait about 4 minutes and voila!
The dripper boasts built-infilter that ensure to keep the natural oils of coffee intact within the grounds. This is the reason behind that intense and rich taste of the coffee.
Priced under $20, this coffee brewer is quite reasonable. Also, the best part about it is that you don't need to buy any paper filters. Sounds like a must-have!
The Bottom Line:
The Bodum Pour Over is a great value for money, considering that it is a multi-serve dripper. Also, you don't need any paper filters, as it already features a built-in filter.
Bartelli Paperless Pour Over Coffee Dripper
"Bartelli Paperless Pour Over Coffee Dripper filter cone is one-of-its-kind. It is luxurious and wisely engineered to yield a flavorful cup of brewed coffee every single time.
The name of this dripper itself suggests that it doesn't require any paper. It is definitely a 2-in-1 treat here: you save money and also get a delicious cup of java.
The filter cone has tiny holes so that the coffee grounds won't drop into your cup, regardless of the grind you prefer.
This pour over coffee dripper is not only engineered to fit in cups but also pots too. Why does that matter? That matters because this paperless dripper is otherwise single-serve, but you have an option to turn it into a multi-serve dripper as well. However, you will have to pop in more coffee grounds for every cup.
The Bottom Line:
If you are willing to splurge a bit over a good quality product, the Bartelli Paperless is definitely the one you should consider. The coffee tastes just like what other paperless drippers produce; however, it does have a longer life-span.
Osaka Pour Over Drip Brewer
"Osaka is commonly known to manufacture their products wisely. Every product is manufactured to make sure it gives you the ultimate coffee experience. Undoubtedly, every single product by Osaka boasts sleek structure along with better performance than others.
The Osaka pour over dripper features a glass carafe, which has the capacity to brew 6 cups of coffee. The carafe is thermal so that your coffee will remain warm for a couple of hours.
The relieving part, though, is that this dripper is microwave and dishwasher-friendly. Also, if you had a bad experience with carafe in the past, don't worry, as this dripper won't leave any bad taste in your coffee.
The dripper's carafe features a heat resistant collar. What's so special about it? You can pour the coffee out while it is still hot, and you won't need any towels to hold the collar.
Though the dripper carries a price tag of $50, it is a good value for money. The fact that it features a 6-cup carafe along with a heat resistant collar is a win-win situation.
The Bottom Line:
The Osaka is for those who are willing to spend a few extra bucks over a good quality dripper to get that delicious cup of coffee. It is suitable for families with multiple coffee drinkers.
Melitta Single Cup Coffee Brewer
"Though not the most attractive one, the Melitta Coffee Brewer is the most economical and the easiest among others, and also, it brews a delicious cup of Joe.
The Melitta brewer is definitely the most economical dripper we have come across until now. Though it would be ranked somewhere near last because it doesn't look attractive, who cares when it is more than convenient. It is also dishwasher-friendly.
However, with all that provided ease, you do have to get paper filters. But oh boy, it's less than $6 and buying a paper filter wouldn't probably cost too much as others on the list alone do.
The Bottom Line:
If you want something economical yet easy to use, Melitta is definitely the one to get your hands on. A good coffee dripper is the one with great-tasting capabilities and convenience, and this is surely the one.
Tanors Ceramic Coffee Dripper
"The Tanors Ceramic Coffee Dripper allows you having complete control over the process to make a delicious and flavorful cup of java.
The Tanors brewer is made up of ceramic that absorbs all the heat but keeps the handle cool, ensuring your hands are safe while pouring the coffee out.
Moreover, the dripper is constructed at such an angle to ensure the water flow is even on the coffee grounds. The dripper also features large holes, allowing you to have control over the coffee's strength and intensity.
Though it is easy and simple enough to be used by everyone, the brewer is specifically recommended for those who have sound knowledge of coffee grounds and how it affects the coffee taste.
The faster brewing of your coffee will extract the full flavour of coffee; however, the same extraction speed will also show weaknesses in the brewed coffee. So if you are not willing to spend a few extra bucks on premium coffee beans, you should honestly skip this option on your list.
The Bottom Line:
The Tanors coffee brewer is ideal for those who know about coffee beans and brewing method. Though it is reasonably priced, this pour-over coffee brewer is not for beginners.
Chemex Classic Series
"Chemex Classic Series is a perfect coffee brewer that houses all qualities to brew a perfect cup of coffee.
Featuring an hour-glass curved structure, this glass flask doesn't absorb any chemical odour. This one-piece pour over brewer by Chemex is a durable product and will last long until you incidentally break or damage it. Our team has tested several related products by Chemex, and this one proved to be the best one.
Priced at $50, this dripper is not cheap. However, considering its great appearance and durability, it is a great value against the price.
The glass flask also sports a wooden collar that ensures your hands remain safe while pouring hot coffee out. The best part is that the collar is detachable so that you can clean it off with ease.
The Bottom Line:
If you are a coffee enthusiast and see coffee maker as a proper investment, this will definitely prove to be a wise decision.
Primula Single Serve Coffee Brew Buddy
"Observation of lots of cultures has been incorporated into the manufacturing of Primula products.
Primula Coffee Brew Buddy is basically a little filter that goes inside your cups or mugs. It is simple to use: Just pop in some coffee and add water. Moreover, you can adjust the intensity of flavours by putting in your desired amount of coffee beans.
As soon as you reach the desired intensity, just take the filter out.
Basically, this pour-over coffee brewer is specifically designed for travelling. It is both handy and easy to carry around, so if you want to take it along on trips or adventures, go ahead. It boasts a compact design and is also light-weight. And it so obvious that you don't have to get any paper filters. The dripper makes coffee with good taste.
The Bottom Line:
If you are a frequent traveler and can't do without coffee, this Primula coffee brewer is definitely an ideal machine instead of those large, bulky ones.
Our Top 3 Picks:
Best Pick
Hairo V60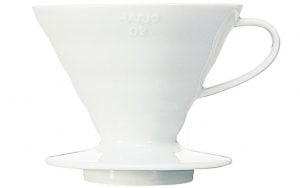 Budget Pick
Melitta
Best Chemex
Chemex Coffee Maker
Buyers' Guide:
Q. How Should One Choose the Best Pour Over Coffee Maker?
We have listed below some of the factors that make a good pour over coffee maker and some tips on how to get your preferred cup of coffee.
To say, there could be hundreds of factors to put into consideration while deciding on the best pour over coffee dripper, but we have listed the most important ones below.
Your Spending Limit
You must know what your spending limit is and whether you see a coffee maker as a proper investment. To be honest, it could be a little disheartening to know that your favourite coffee maker is out of your budget.
Your Knowledge About Brewing Process
If you are a complete beginner or you don't mind having little experiments to make your desired cup of java, you should go ahead and buy this coffee dripper to make a customized taste.
Single-Serve vs. Multi-Serve
If you are the only coffee drinker in your household or you live alone, a single-serve coffee dripper is enough for you.
If you have multiple people in your household who love to have coffee all the time or you are a legit coffee enthusiast, go for a multi-serve coffee dripper as it will save both time and energy.
Reusable filters vs. Paper Filters
First of all, filter papers can become pricey with time, and be honest, it is a total waste of money.
However, if you would rather prefer to brew the coffee and dump the filter in the bin, go for drippers with paper filters.
Otherwise, if you are sure about the maintenance and cleaning part, coffee dripper with reusable filter is the best option.
It is also said that coffee brewed through a reusable filter taste much better than that of a paper one, as reusable filters don't absorb the natural oils of the coffee.
Brand Preference
Of course, if you have a certain brand in mind, it wouldn't take much time to decide on the best pour over coffee dripper.
However, if you prefer to have a bit of research before actually making an investment, do check out cheaper alternatives as well. Because there is a higher chance that cheaper ones might have the same features and functions.
Also, do remember to check reviews before buying even an expensive one. Remember, expensive doesn't always mean better.
Q. How To Get The Best Cup Of Coffee Every Single Time?
In order to have a delicious cup of java every single time you brew, there are some factors you must put into consideration, regardless of the model you choose:
Use Fresh Coffee Grounds
If you want to have the best coffee of your life with consistent taste, always make sure to brew fresh coffee grounds. Pre-packaged ones don't have that bursting aroma and depth of flavour.
Grind Coffee Beans Before Use
Apparently, it seems like a hassle to grind coffee beans just before use. But let us tell you, pre-grinding may look like an easy way, but coffee beans can really lose their depth and flavour in a couple of minutes.
Use Premium-Quality Coffee Beans
Generally, the rule is that premium coffee roast can make coarse coffee grounds. However, you can experiment a little bit to find your desired flavour.
Read Instructions to Use the Machine
If the machine tells you to have a particular paper filter, do as directed. Going for cheaper alternatives may lead to a bad-tasting cup of coffee.
–    If you are using paper filters, get the ones written in the guide
–    If you have reusable filters, make sure to clean them in between uses
Pour Over Coffee Brewer Are Ideal For?
As we know that pour over coffee brewing can literally bring out that delicious taste of the coffee along with that good coffee aroma. So, those who really prefer the authentic coffee taste should go for pour over drippers.
We suggest every home having at least one pour over coffee dripper. Because obviously, the taste!
We hope this guide has been helpful for all coffee enthusiasts.  Get the best dripper and have a happy brewing experience!