A Slim and Sleek Keurig Single Serve Coffee Maker, the Keurig K250 brews a rich, smooth, and delicious cup every time with the quality you expect from Keurig.
Keurig K250 Single Serve, K-Cup Pod Coffee Maker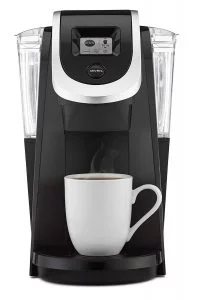 With a strength control setting for a bolder brew, and multiple K-Cup, K-Mug, and K-Carafe pod brew sizes, you can customize your settings to get your perfect cup. Plus, an easy-to-use touch screen makes your brewing experience stress free. 
Whether you like your coffee strong, mild, decaf, or flavoured, you can brew all of your favourites with the Keurig K250 – and with large 48oz water reservoir, you can brew 6+ cups before having to refill. 
Discover hundreds of K-Cup pod varieties from all of the brands you love, including Green Mountain Coffee, Starbucks, and Lipton, and enjoy coffee, tea, hot cocoa and more. 
Features
With the simple touch of a button, the Keurig 2.0 K250 plus series coffee brewing system.
Compatible with more than 250 varieties plus series coffee brewing system allows you to easily and conveniently brew up a cup of coffee.
Adjustable strength control for brewing bolder coffee.
9 brew sizes from 4 oz. up to carafe size (Keurig K-Carafe sold separately).
Includes. (Brewer, water filter starter kit, Keurig descaling solution, 4-Count K-cup variety pack).
Reservoir tank capacity: 40 oz.
Black and white touch display control panel.
Plastic housing.
Wipe-clean exterior.
Product dimensions: 15 x 9 x 13.7 inches.
Product weight: 7.5 pounds.
Manufacturer: Keurig.